17.06.2013
EUBrazilOpenBio announcing two new training resources on ecological niche modelling and cross-mapping available online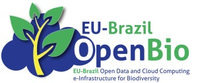 EUBrazilOpenBio invites pro-iBiosphere members and biodiversity stakeholders to access two new training exercises on ecological niche modelling and cross-mapping on their website.
The objective of the new exercise on ecological niche modelling is to study Adenocalymma dichilum A.H. Gentry. This species is endemic for Brazil. According to the Official List of Threatened Brazilian Plant Species, its conservation status is "Data Deficient". A reliable distribution model would help to decide whether the distribution is poorly known or restricted in a well-delimitated region in Brazil. This exercise goes through various steps, such as, retrieving occurance points and creating models, analysing the results of the models, projecting the models under exisiting conditions, etc. For more information on this exercise please click here.
The cross-mapping tool focuses on obtaining the list of taxa present in the family Passifloraceae that is in the List of Species of the Brazilian Flora (Brazilian Flora: LSBF) but not in the Catalogue of Life (CoL). The exercise goes through various steps, such as getting the Darwincore files with taxonomic checklists, running the cross-map algorithm, checking and exporting results, etc. For more information about this tool please click here.

Print this article