03.10.2013
Meet the pro-iBiosphere Partnership at ICT2013!
Europe's most visible forum for ICT research and innovation, ICT2013, will take place from 6-8 November 2013 in Vilnius, Lithuania.
The ICT 2013 event will be the first opportunity to learn the details of research funding for ICT-related projects under Horizon 2020, the EU's new research program for 2014-2020. ICT2013 will also offer participants opportunities to showcase their most advanced research, ICT products and most innovative creations and to meet delegates with common or similar topical interests with whom they could collaborate in the future.
The pro-iBiosphere partnership will be represented at the ICT2013 event with a networking session and an exhibition booth, co-organised with other three EC-funded projects: the European Grid Infrastructure (EGI), ei4Africa and CHAIN-REDS.
The networking session on 'What does the future hold for e-Science and Big Data?' is taking place on Nov. 6, 2013 (16:00-16:45). This session will bring together researchers, data owners and service providers (including SMEs) to explore the future for e-science and how to deliver open access to data through Horizon2020. Participation will lead to better awareness of e-infrastructures and their potential for universal access to big data and a closer understanding of how they solve scientific challenges, including supporting science's 'long tail'. More…
The exhibition booth 'e-Infrastructures at work and the future of research' will showcase demonstrations from the four EC-funded projects running the booth. Members of the four projects will be on hand to fully engage with visitors and to present several demonstrators. There will also be supporting information and materials such as posters and leaflets.
We would be glad to meet you to discuss future collaboration opportunities in the fields of open access to data and linking litterature and data: if you would like to arrange a meeting with us, please contact us!
How to find us
The networking session will be organised in the Room H1C, located in the Hal 1. The exhibition booth (n. 4B24) will be located in the Hal 4: see map below.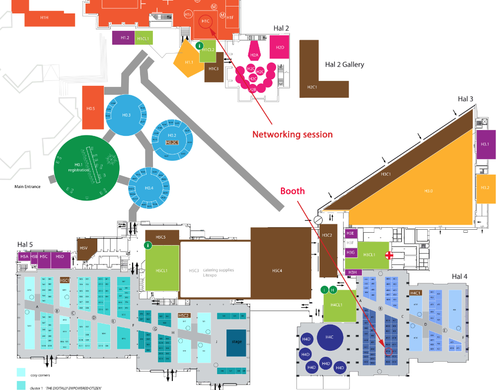 Print this article