10.12.2013
Outcomes of the pro-iBiosphere workshop 4 on Business Models
A pro-iBiosphere workshop on evaluation of business models took place on the 10th of October 2013 at the Botanischer Garten und Botanisches Museum (FUB-BGBM) in Berlin, Germany. It was attended by project partners and four external experts. The workshop was split into two sessions, each divided into smaller working groups. In the first session, a prioritised list of the partners' current products and services was drawn up, and the opportunities for, and threats to these were assessed. In the second session, the participants focussed on the services and activities that would comprise a future OBKMS (Open Biodiversity Knowledge Management System) and documented the constraints that might prevent the projected benefits of OBKMS from being realised.
The sessions have been very fruitful in terms of content (more than 20 matrix were made) and all participants (including external participants) have been very active during the whole day. Having external participants represented a real asset as they helped shaping the project vision more precisely while also demonstrating and confirming their interest in the OBKMS. Partners found these exercises very productive while taking time to step back and envision the future of the Consortium all together. This workshop is not the end of the exercise but only a milestone to agree on the various concepts, methodology and tools to be used to envision project sustainability and allow discussions among the partners. All in all, workshop objectives have been achieved.
The next steps of this workshop will be the release of an event report detailing the event outputs in presenting the project exploitation potential. We will keep you updated on the development of these activities.
For complementary information on the workshop (concept & objectives, agenda, participants list and presentations), visit the dedicated wiki page here.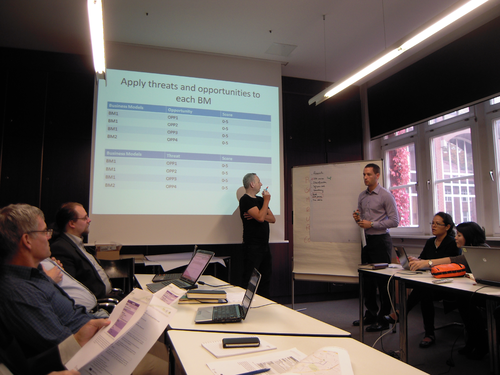 Print this article