18.03.2014
REGISTER NOW: pro-iBiosphere Final Event in Meise (Brussels) - June 10-12, 2014
The pro-iBiosphere Final Event will take place on June 10-12 2014, at the Bouchout Castle – Meise in Belgium (Agentschap Plententuin Meise, also known as Botanic Garden Meise).
The aim of these series of activities is to present the achievements of the project and its sustainability perspectives.
The week agenda comprises:
Tuesday June 10 (PM)
Workshop on Model Evaluation

Wednesday June 11 (all day)
Demonstrations on pro-iBiosphere pilots
Demonstrations on outcomes of pro-iBiosphere Data Enrichment Hackathon
Workshop on Biodiversity Catalogue
Training on WikiMedia
Poster session

Thursday June 12 (all day)
Final Conference
Networking Cocktail
Do not miss this unique opportunity and join us in Meise (Brussels)!.
Registration is free of charge but compulsory due to room capacity constraints. You can register by filling out the online registration form at http://tiny.cc/pib-final-event.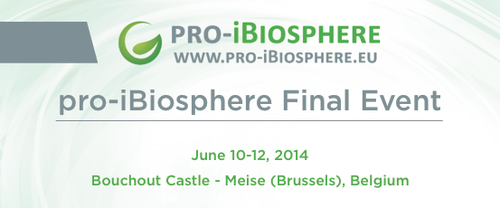 Print this article